---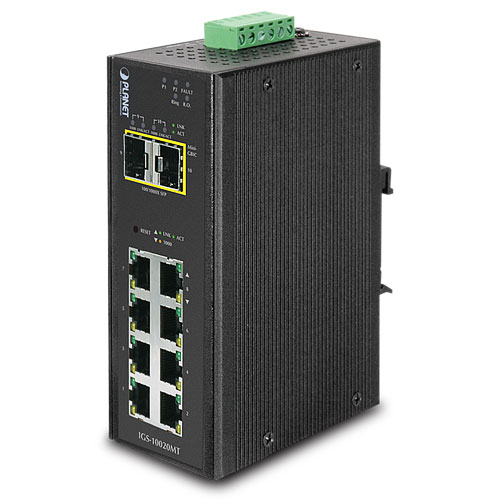 IGS-10020MT
Switch Gigabit Industriale 8-Porte rame 10/100/1000Base-T + 2-Porte con slot miniGBIC/SFP 100/1000Base-X (temperatura di esercizio: -40°C ~ 75°C)
Il modello IGS-10020MT è un switch gestito 10-Porte Full Gigabit Ethernet, progettato appositamente per costruire una dorsale Gigabit completa per la trasmissione di dati ad alta velocita in modo sicuro e affidabile all'interno di ambienti industriali esigenti e verso reti remote mediante la fibra ottica.
Lo switch Gigabit Ethernet IGS-10020MT è costituito da 8 porte 10/100/ 1000Base-T in rame e 2 porte ottiche 100/1000Base-X con slot SFP, contenute in robusto case IP30 con sistema di alimentazione ridondante. Oltre al supporto "Switch Fabric" fino a 20 Gbps per gestire grandi quantità di dati e comunicazioni vocali e video, il modello IGS-10020MT presenta un'interfaccia utente semplice ma avanzata per la gestione del protocollo IPv6 / IPv4 e per la commutazione a pacchetto L2 / L4. Questo switch è il miglior investimento possibile per quelle aziende che hanno bisogno di espandere o aggiornare la propria infrastruttura di rete industriale.
Piena Funzionalità di gestione IPv4 e IPv6
Lo switch industriale IGS-10020MT supporta la tecnologia ad anello ridondante e dispone di una forte capacità di auto-recupero per evitare interruzioni del servizio e intrusioni esterne. Incorpora inoltre la tecnologia avanzata ITU-T G.8032 ERPS (Ethernet Ring Protection Switching), il Protocollo Spanning Tree (802.1s MSTP) e un sistema di ridondanza della corrente in ingresso nella rete di automazione industriale del cliente, il tutto per potenziare l'affidabilità generale del sistema e il tempo di funzionamento in ambienti industriali molto ostici. In una rete con topologia ad anello semplice, il tempo di recupero del collegamento dati per considerarsi veloce deve essere intorno ai 20 ms.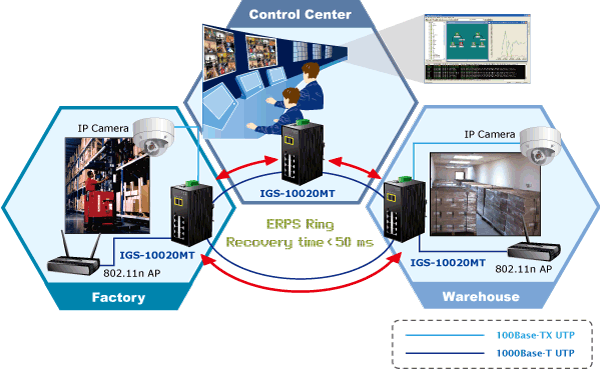 Protezione dai fattori ambientali
Con uno chassis in alluminio e un grado di protezione industriale IP30, lo switch Gigabit EthernetIGS-10020MT fornisce un alto livello di immunità contro le interferenze elettromagnetiche e le scariche elettriche pesanti, che solitamento si possono trovare nella canaline sotto pavimento oppure nei quadri di controllo lato strada. Possiede inoltre una fonte di alimentazione integrata con un'ampia gamma di tensioni (da 12 a 48V DC o 24V AC) per applicazioni ad elevata disponibilità che necessitano doppi ingressi o backup di potenza. Lo switch industriale IGS-10020MT è in grado di operare nei range di temperatura da -40 a 75 °C, potento essere posizionato in qualsiasi ambiente climaticamente difficile.
Soluzione Flessibile ed Estendibile
I 2 slot mini-GBIC integrati nello switch Gigabit Ethernet IGS-10020MT supportano i moduli SFP (Small Form-factor Pluggable) in fibra ottica 100Base-FX e 1000Base-SX/LX, permettendo all'amministratore della rete di poter scegliere in modo flessibile il transceiver SFP più adeguato a seconda della distanza di trasmissione o della velocità di trasmissione richiesta, per poter così estendere in modo efficiente la rete industrial ethernet. Lo switch IGS-10020MT supporta la funzione SFP-DDM (Digital Diagnostic Monitor) che permette all'amministratore di rete di monitorare in tempo reale i parametri dei moduli SFP, quali potenza ottica in uscita, potenza ottica in ingresso, temperatura, corrente di polarizzazione del laser e tensione di alimentazione del modulo SFP.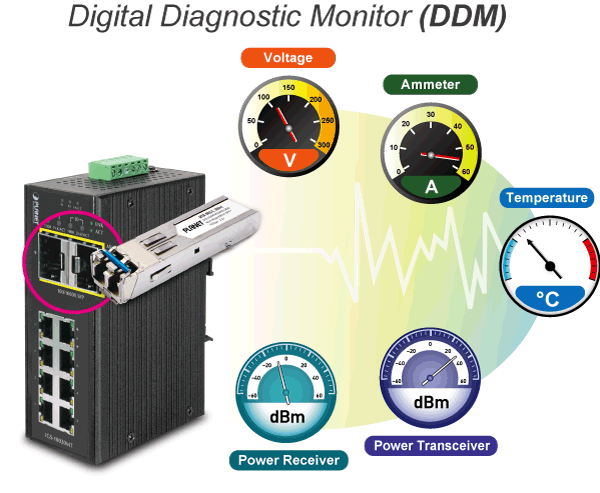 Switch gestito per raccolta e inoltro dati in aree industriali
Lo Switch Gigabit Ethernet IndustrialeIGS-100MT ofrre elevate prestazioni e alta affidabilità, assicurando un funzionamento continuativo per garantire l'operatività industriale in ambienti difficili come quadri di controllo, fabbriche, catene di montaggio, all'aperto e nei luoghi in cui si possono trovare temperature estremamente basse o assai alte. Con un funzionamento non-bloccante e dimensioni compatte, l'installazione dello switch industriale IGS-100MT non presenta particolari difficoltà e permette di costruire una rete a banda larga Gigabit Ethernet in modo molto rapido.
Per espandere ulteriormente la rete attuale, lo switch industriale IGS-10020MT possiede un'interfaccia di amministrazione via WEB con pannello di gestione SNMP. La gestione dello switch IGS-10020MT via web permette di configurare in modo veloce tutte le sue funzioni indipendentemente dalla piattaforma utilizzata. Il supporto allo standard SNMP (Simple Network Management Protocol) permette allo switch gestito di essere controllato tramite qualsiasi software di gestione basato su standard SNMP. Utilizzando uno Switch Gigabit Ethernet Industriale come il modello IGS-10020MT verranno soddisfati tutti i requisiti delle applicazioni industriali, i clienti potranno godere di un'alta affidabilità operativa, di una capacità di recupero ottimale e soprattutto garantire un funzionamento continuo alla propria rete Ethernet industriale.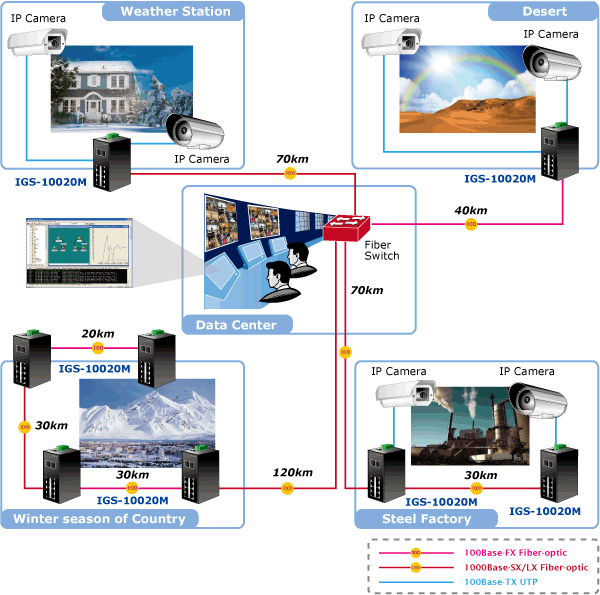 Lo switch per una rete d'automazione sicura
Lo switch industriale IGS-10020MT include funzionalità complete Layer 2 e Layer 4 e applica le funzioni di controllo degli accessi ACL (Access Control List). Può quindi essere utilizzato per limitare l'accesso alla rete, filtrando pacchetti in base all'indirizzo IP sorgente e di destinazione e bloccando le porte TCP/UDP utilizzate da determinate applicazioni di rete. Gli amministratori di rete possono ora costruire una rete di comunicazione aziendale ad alta sicurezza, riducendo drasticamente i tempi di realizzazione rispetto a prima e con sforzi molto ridotti.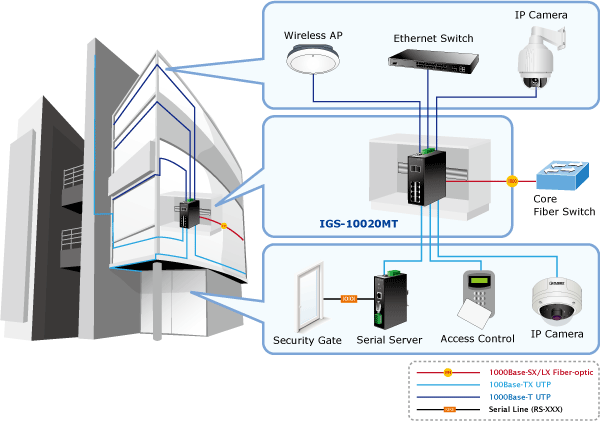 Funzioni FTTx / MAN
Lo Switch Gigabit Ethernet Industriale IGS-10020MTA assicura prestazioni ad alto livello per le soluzioni FTTx, al fine di costruire una soluzione di rete FTTH (Fiber to the Home) o FTTC (Fiber to the Curb) per gli ISP e FTTB (Fiber to the Building) per le imprese.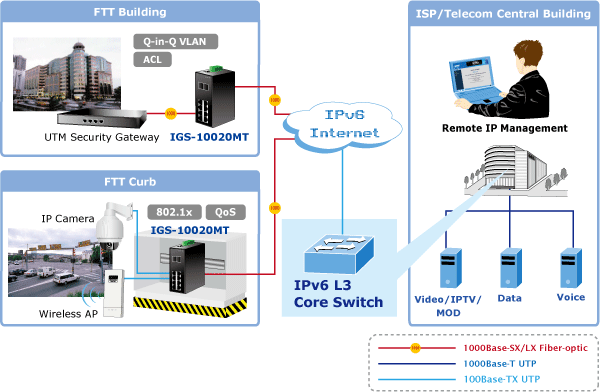 Caratteristiche Principali
Porte

8-porte 10/100/1000Base-T RJ-45 copper
2-porte 100/1000Base-X con slot mini-GBIC/SFP, SFP del tipo auto detection

Industrial Case / Installation

IP30 aluminum case protection
DIN-rail and wall mount design
Redundant Power Design  

12 to 48V DC, redundant power with polarity reverse protect function
AC 24V power adapter acceptable

Supports EFT protection 6000 VDC for power line
Supports 6000 VDC Ethernet ESD protection
-40 to 75 degrees C operating temperature

Caratteristiche Layer2

Prevents packet loss with back pressure (half-duplex) and IEEE 802.3x pause frame flow control (full-duplex)
High performance of Store-and-Forward architecture and runt/CRC filtering eliminates erroneous packets to optimize the network bandwidth
Storm Control support  
- Multicast / Unknown-Unicast
Supports VLAN  
- IEEE 802.1Q Tagged VLAN  
- Up to 255 VLANs groups, out of 4095 VLAN IDs  
- Provider Bridging (VLAN Q-in-Q) support (IEEE 802.1ad)  
- Private VLAN Edge (PVE)  
- Protocol-based VLAN  
- MAC-based VLAN  
- Voice VLAN
Supports Spanning Tree Protocol  
- STP, IEEE 802.1D Spanning Tree Protocol  
- RSTP, IEEE 802.1w Rapid Spanning Tree Protocol  
- MSTP, IEEE 802.1s Multiple Spanning Tree Protocol, spanning tree by VLAN  
- BPDU Guard
Supports Link Aggregation  
- 802.3ad Link Aggregation Control Protocol (LACP)  
- Cisco ether-channel (Static Trunk)  
- Maximum 5 trunk groups, up to 10 ports per trunk group  
- Up to 20Gbps bandwidth (duplex mode)
Provides Port Mirror (many-to-1)
Port Mirroring of the incoming or outgoing traffic on a particular port
Supports E.R.P.S. (Ethernet Ring Protection Switching)

Quality of Service

Ingress Shaper and Egress Rate Limit per port bandwidth control
8 priority queues on all switch ports
Traffic classification  
- IEEE 802.1p CoS  
- IP TOS / DSCP / IP Precedence  
- IP TCP/UDP port number  
- Typical network application
Strict priority and Weighted Round Robin (WRR) CoS policies
Supports QoS and In/Out bandwidth control on each port
Traffic-policing policies on the switch port
DSCP remarking

Multicast

Supports IGMP Snooping v1, v2 and v3
Supports MLD Snooping v1 and v2
Querier mode support
IGMP Snooping port filtering
MLD Snooping port filtering
MVR (Multicast VLAN Registration)

Security

IEEE 802.1x Port-based / MAC-based network access authentication
Built-in RADIUS client to co-operate with the RADIUS servers
TACACS+ login users access authentication
RADIUS / TACACS+ users access authentication
IP-based Access Control List (ACL)
MAC-based Access Control List
Source MAC / IP address binding
DHCP Snooping to filter untrusted DHCP messages
Dynamic ARP Inspection discards ARP packets with invalid MAC address to IP address binding
IP Source Guard prevents IP spoofing attacks
Auto DoS rule to defend DoS attack
IP address access management to prevent unauthorized intruder

Management

Switch Management Interfaces  
-Web switch management  
-Remote Telnet management  
-SNMP v1, v2c, and v3 switch management  
-SSH / SSL secure access
Four RMON groups (history, statistics, alarms, and events)
IPv6 IP Address / NTP / DNS management
Built-in Trivial File Transfer Protocol (TFTP) client
BOOTP and DHCP for IP address assignment
Firmware upload/download via HTTP / TFTP
DHCP Relay
DHCP Option 82
User Privilege levels control
NTP (Network Time Protocol)
Link Layer Discovery Protocol (LLDP) Protocol
Cable Diagnostic technology provides the mechanism to detect and report potential cabling issues
Reset button for system reboot or reset to factory default
PLANET Smart Discovery Utility for deploy management
---
Specifiche Tecniche
Hardware Specifications
Hardware Version
2
Copper Ports
8 10/ 100/1000Base-T RJ-45 Auto-MDI/MDI-X ports
SFP/mini-GBIC Slots
2 1000Base-SX/LX/BX SFP interfaces (Port-9 and Port-10)
Compatible with 100Base-FX SFP

Switch Architecture
Store-and-Forward
Switch Fabric
20Gbps / non-blocking
Throughput (packet per second)
14.8Mpps
Address Table
8K entries, automatic source address learning and ageing
Share data Buffer
512 kilobytes
Flow Control
IEEE 802.3x pause frame for full-duplex. Back pressure for half-duplex
Jumbo Frame
9Kbytes
Reset Button
< 5 sec: System reboot
> 5 sec: Factory Default

ESD Protection
6KV DC
EFT Protection
6KV DC
Enclosure
IP30 aluminum metal case
Installation
DIN rail kit and wall mount kit
Alarm
One relay output for power failure.
Alarm relay current carry ability: 1A @ DC 24V

LED Indicator
System:

| | |
| --- | --- |
| | Power 1 (Green) |
| | Power 2 (Green) |
| | Fault Alarm (Green) |
| | Ring (Green) |
| | R.O. (Green) |

Per 10/100/1000T RJ-45 Ports:

| | |
| --- | --- |
| | Power LNK/ACT (Green) |
| | 1000 (Orange) |

Per SFP Interface:

| | |
| --- | --- |
| | LNK/ACT (Green) |
| | 1000 (Orange) |

Dimensions (W x D x H)
87.8 x 135 x 56 mm
Weight
720g
Power Requirements
DC 12 to 48V. AC 24V power adapter
Power Consumption
10 watts / 34BTU (full loading)
Layer 2 function
Basic Management Interfaces
Web Browser, Remote Telnet, SNMP v1, v2c
Secure Management Interface
SSH, SSL, SNMP v3
Port configuration
Port disable/enable
Auto-negotiation 10/100/1000Mbps full and half duplex mode selection
Flow Control disable / enable
Power saving mode control

Port Status
Display each port's speed duplex mode, link status, flow control status. Auto negotiation status, trunk status.
Port Mirroring
TX / RX / Both
Many to 1 monitor

VLAN
802.1Q Tagged based VLAN ,up to 255 VLAN groups
Q-in-Q tunneling
Private VLAN Edge (PVE)
MAC-based VLAN
Protocol-based VLAN
Voice VLAN
MVR (Multicast VLAN Registration)
Up to 255 VLAN groups, out of 4095 VLAN IDs

Link Aggregation
IEEE 802.3ad LACP / Static Trunk
Support 5 groups of 10-Port trunk support

QoS
Traffic classification based, Strict priority and WRR
8-level priority for switching
 - Port Number
 - 802.1p priority
 - 802.1Q VLAN tag
 - DSCP/TOS field in IP Packet

IGMP Snooping
IGMP (v1/v2/V3) Snooping, up to 255 multicast Groups
IGMP Querier mode support

MLD Snooping
MLD (v1/v2) Snooping, up to 255 multicast Groups
MLD Querier mode support

Access Control List
IP-Based ACL / MAC-Based ACL
Up to 123 entries

Bandwidth Control
Per port bandwidth control
 Ingress: 500Kb~80Mbps
 Egress: 64Kb~80Mbps

SNMP MIBs
RFC-1213 MIB-II
IF-MIB
RFC-1493 Bridge MIB
RFC-1643 Ethernet MIB
RFC-2863 Interface MIB
RFC-2665 Ether-Like MIB
RFC-2819 RMON MIB (Group 1, 2, 3 and 9)
RFC-2737 Entity MIB
RFC-2618 RADIUS Client MIB
RFC-2933 IGMP-STD-MIB
RFC3411 SNMP-Frameworks-MIB
IEEE 802.1X PAE
LLDP
MAU-MIB

Standards Conformance
Regulation Compliance
FCC Part 15 Class A, CE
Stability Testing
IEC60068-2-32 (Free fall)
IEC60068-2-27 (Shock)
IEC60068-2-6 (Vibration)

Standards Compliance
IEEE 802.3 10Base-T
IEEE 802.3u 100Base-TX / 100Base-FX
IEEE 802.3z Gigabit SX/LX
IEEE 802.3ab Gigabit 1000T
IEEE 802.3x Flow Control and Back pressure
IEEE 802.3ad Port trunk with LACP
IEEE 802.1D Spanning Tree Protocol
IEEE 802.1w Rapid Spanning Tree Protocol
IEEE 802.1s Multiple Spanning Tree Protocol
IEEE 802.1p Class of service
IEEE 802.1Q VLAN Tagging
IEEE 802.1x Port Authentication Network Control
IEEE 802.1ab LLDP
RFC 768 UDP
RFC 793 TFTP
RFC 791 IP
RFC 792 ICMP
RFC 2068 HTTP
RFC 1112 IGMP version 1
RFC 2236 IGMP version 2
RFC 3376 IGMP version 3
RFC 2710 MLD version 1
FRC 3810 MLD version 2

Environment
Operating
Temperature: -40 ~ 75 degrees C
Relative Humidity: 5 ~ 95% (Non-condensing)

Storage
Temperature: -40 ~ 75 degrees C
Relative Humidity: 5 ~ 95% (non-condensing)